2022 The 14th National Steel Structure Development Summit Was A Great Success
Views: 0 Author: Site Editor Publish Time: 2022-08-30 Origin: Site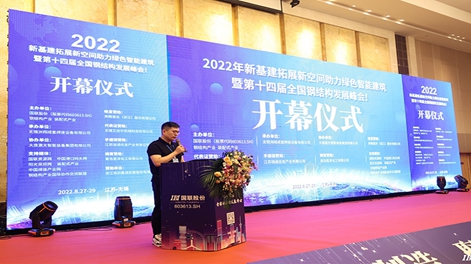 On August 27-29, 2022 New Infrastructure to Expand New Space to Boost Green Intelligent Building and the 14th National Steel Structure Development Summit was successfully held in Wuxi, Jiangsu. Representatives of enterprises, experts and scholars, industry experts, news media, etc. from the national steel structure industry and construction field attended the conference. We discussed the new development of steel structure industry and green intelligent building under the new infrastructure. Zhouxiang has been hosting the national industry summit for many years, taking the social responsibility of a leading enterprise!
The Fifth Plenary Session of the 19th Central Committee clearly put forward the requirements and directions of green development, to accelerate the promotion of green and low-carbon development, continuously improve the quality of the environment, enhance the quality and stability of the ecosystem, and comprehensively improve the efficiency of resource utilization. Recently, the National Development and Reform Commission also put forward six new initiatives for "carbon peaking and carbon neutral", including adjusting energy structure, promoting industrial structure transformation, improving energy utilization efficiency, accelerating low-carbon technology research and development and promotion, improving low-carbon development institutional mechanism and making efforts to increase ecological carbon sinks.
In this context, the meeting was held to analyze the promotion of green low-carbon building materials and green construction methods, accelerate the industrialization of new buildings, vigorously develop assembly-type buildings, promote steel structure housing, promote the recycling of building materials, and strengthen green design and green construction management.
To reduce energy consumption in the construction industry, we need to start from the whole life cycle of the building, including the production of building materials, construction and operation and maintenance, so as to promote the green and low-carbon development of the whole industry chain. A great event to grasp the market opportunities and clarify the correct development direction of enterprises!
Xu Dan, General Manager of Zhou Xiang, delivered a welcome speech

Speech by Lu Haishan, Sales Director of Zhouxiang: Automation transformation and digital transformation of steel structure production
Conference Site
【Visit to Zhouxiang Enterprise】
After the visit, in the company's conference center, Chairman Xu Huizhong expressed his warm welcome to everyone's arrival and thanked the new and old friends in the industry who have given care and support to Zhou Xiang over the years, hoping that through the visit and exchange you can have a more in-depth understanding of Zhou Xiang enterprise, and sincerely hope to cooperate closely with all friends to create a better future for Zhou Xiang!
Green building carries the ideal of human pursuit of people-oriented, ecological, environmental protection, energy saving, health and sustainable development. The development of green intelligent building, saving energy resources, intensive land use and protecting the environment is the future development direction and inevitable requirement, and also a common issue facing the human development process. Let us not forget our original intention, remember our mission, forge ahead and renew our glory.
Zhouxiang Enterprise
Specializing in the production of H-beam light and heavy steel production line, box beam production line, horizontal production line, double-splicing welding and straightening automatic line, all kinds of automated customized assembly line; including CNC flame plasma cutting machine, fiber laser flat cutting machine, laser pipe cutting machine, tube and plate integrated machine, hand-held laser welding machine, H-beam assembling machine, gantry submerged arc welding machine, H-beam straightening machine, shot blasting machine, H-Beam assembly welding and straightening integrated machine, welding special machine, auxiliary machine, rolling machine, profile bending machine, various welding machines, etc,
Made by Zhouxiang, professional quality, high precision, high speed.
Leading technology, stable quality, products sell well at home and abroad.