A vietnam agent ordered two sets of double column welding machine SXBH20 from our company.
Views: 75 Author: Site Editor Publish Time: 2019-07-16 Origin: Site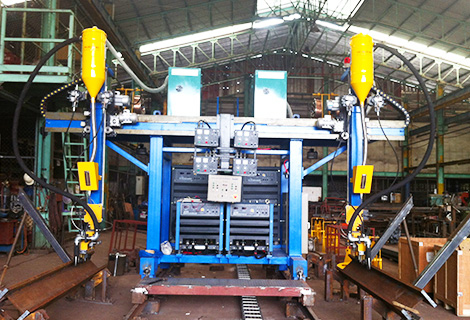 In the year 2017, a Vietnamese agent ordered two sets of double column welding machine SXBH20 from our company. This agent has bought many machines from us, and is quite satisfied with our products.
The agent told us that customer needed the machine quite urgent, so we decided to deliver one finished machine first, another was still in producing, we will catch time for them. When the second machine was ready, we booked the ship for customer at once, and planed to load container on the second day. But agent suddenly informed us that customer requested to change guide rail length from 18m to 25m. Then we know that when they signed this contract, they didn't mention this details, but when customer prepared the foundation according to our drawing, they found this length can not satisfy their producing request, so they asked us to change both machines' rail length (including the first delivered machine). They asked us to send first machine's new cables with second machine.
But usually this special length cables were special order, according to our experience, it will take about one day to make 2 sets of these enlarged cables, but now the time was nearly to off duty, and the machine will be loaded into container tomorrow, we had no time to change. Considering this hard condition, we suggested agent to delay shipping. But agent informed us that end user really needs these machines urgently, and they promised to deliver this order in time, won't affect customer's schedule plan. If now delayed shipment, agent will lose the trust of customer, and may pay for some penalty because of late delivery. After consulting, in order to protect agent and customer's profit, we informed electric workshop's workers to work extra shifts to finish these cables. After one night working, finally till 5:00 in the morning, our workers finished these cables. They waited for our factory start working, and other loading container workers put these cables into container, then can put their heart at rest, and went back home .
Our agent was very admire our staff's professional spirit, and quite appreciated for us keeping promise with end user. Although in purchase progress, machine's quality and after-sales service is most important, but keep the promise with customer is also important.