Ending 2019, planning 2020
Views: 14 Author: Site Editor Publish Time: 2019-12-31 Origin: Site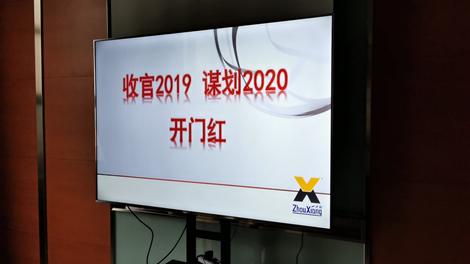 On December 28, 2019, Zhouxiang's 2019 annual sales summary meeting was held in the conference room on the fifth floor of the company's office building. The theme of the conference was "Closing Official 2019, Planning 2020". Chairman Xu Huizhong, General Manager Xu Dan and all sales staff of Zhou Xiang attended the meeting.
The general manager Xu Dan first reviewed and summarized the overall work of the sales system in 2019, praised and fully affirmed the personnel who had increased performance, and based on the goals and tasks set at the beginning of the year, through analysis of domestic and foreign market conditions, The three dimensions of "opportunity, achievements, and shortcomings" are analyzed in depth, and there is room for improvement in sales in 2020. It is hoped that all sales staff will continue to carry forward the spiritual consciousness of "security and proactive change" and continue to maintain a strong driving force for sales growth .
At the meeting, the heads of various departments spoke in turn, reporting on the completion of key tasks since this year and the main ideas of next year's work, identifying the situation, clarifying responsibilities, and meeting the difficulties. Make specific arrangements for annual sales.
Subsequently, Chairman Xu Huizhong made supplementary speeches in four aspects: how to improve the ideological and moral qualities of business personnel, how to improve the business level of business personnel, negotiation skills and focus, and how to avoid risks that may arise in the contract. Xu Dong pointed out that Communicate with customers with the owner's consciousness and mentality. To break the existing ideological yoke, encourage sales staff to go out, penetrate customers, understand the true needs of customers, and eventually grow into a more professional and comprehensive team. Perseverance in caring and sales.
Finally, the technical staff of the company's research and development department explained the new products and new technology functions. Everyone always maintained high enthusiasm and actively interacted. Each sales staff had a deeper understanding of our products. More professional attitude to introduce our products to our customers.
While continuously improving and stabilizing product quality and user reputation, we adhere to all user-oriented requirements, continuously increase investment in new product research and development, and continue to expand sales channels and networks as the primary work. Based on the actual situation in various places, Services drive sales. 2019 is a difficult and rewarding year. 2020 is a promising year. We are confident, capable, and determined to unite and move forward in unity.