Entrepreneur Representatives From Wuxi Houqiao Chamber Of Commerce Visited Zhouxiang Enterprise
Views: 0 Author: Site Editor Publish Time: 2023-05-26 Origin: Site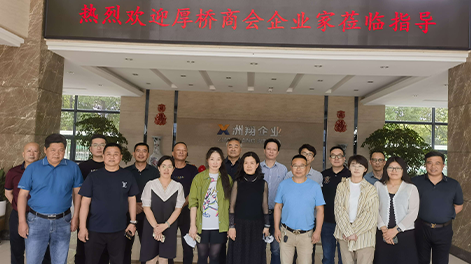 Houqiao chamber of commerce entrepreneur inspection activities
On may 25, 2023, the company ushered in a group of distinguished guests--wuxi city entrepreneur representative of houqiao chamber of commerce. The company leaders warmly received and cited representatives of various companies from the chamber of commerce visited the company's overall environment together.
During the visit, the leaders of the chamber of commerce listened carefully to the introduction of our company introduce, carefully understand the company's production technology, product research and development, market development provided valuable opinions and suggestions on the business development of the enterprise
In the production workshop, representatives of various companies in the chamber of commerce kept taking pictures, constantly appreciation of our company's production environment, product quality, process innovation new and other aspects to give a positive evaluation.
On the one hand, this exchange and investigation is the sharing and sharing of corporate management experience.On the one hand, is the promotion and display of the company's products. Same at that time, i hope that our company will cooperate with the chamber of commerce in the spirit of mutual help and mutual assistance progress together towards a more brilliant tomorrow.
Zhouxiang Enterprise
Specializing in the production of H-beam light and heavy steel production line, box beam production line, horizontal production line, double-splicing welding and straightening automatic line, all kinds of automated customized assembly line; including CNC flame plasma cutting machine, fiber laser flat cutting machine, laser pipe cutting machine, tube and plate integrated machine, hand-held laser welding machine, H-beam assembling machine, gantry submerged arc welding machine, H-beam straightening machine, shot blasting machine, H-Beam assembly welding and straightening integrated machine, welding special machine, auxiliary machine, rolling machine, profile bending machine, various welding machines, etc,
Made by Zhouxiang, professional quality, high precision, high speed.
Leading technology, stable quality, products sell well at home and abroad.