European Client Visits Our Factory to Explore Plate Rolling Machines and Expresses Interest in Becoming Our Distributor
Views: 10 Author: Site Editor Publish Time: 2023-03-31 Origin: Site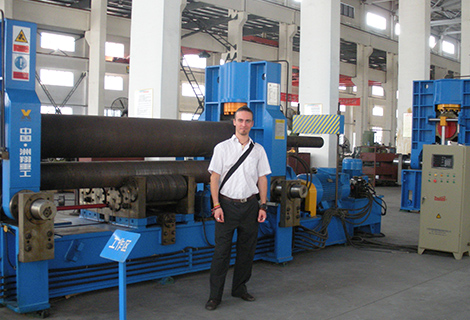 We are delighted to announce that a European client recently visited our factory to explore our plate rolling machines and expressed interest in becoming our distributor.
Our client is a well-established company in the metalworking industry, with extensive experience in the distribution of machinery and equipment. They were impressed by our expertise in designing and manufacturing plate rolling machines that meet the high precision and quality standards demanded by the market.
During their visit, our team demonstrated the capabilities of our machines, showcasing their versatility, accuracy, and high productivity. Our client was highly impressed by the performance of our machines and expressed interest in becoming our distributor in Europe.
We are thrilled at the opportunity to expand our distribution network in Europe and to work with our new client to deliver customized solutions that meet their specific requirements. Our team is dedicated to providing high-quality manufacturing equipment that is designed to optimize production processes, increase efficiency, and reduce downtime.
We take pride in our ability to develop long-term relationships with our clients and to deliver solutions that exceed their expectations. We are confident that our partnership with our European client will enable us to further strengthen our position in the market and to expand our reach to new customers.
In conclusion, we are excited to have the opportunity to work with our new European client as we continue to deliver innovative and customized manufacturing solutions to the metalworking industry.