Gather again at the Autumn Canton Fair to witness "Zhouxiang Intelligent Manufacturing"!
Views: 0 Author: Site Editor Publish Time: 2023-10-21 Origin: Site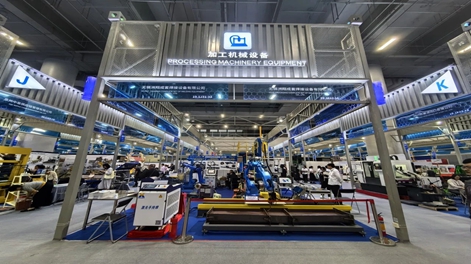 The 134th Autumn Canton Fair
2023 Autumn Canton Fair
"Thousands of miles away to welcome guests," the 134th Autumn Canton Fair kicked off on October 15. Zhouxiang enterprises "went to the Canton Fair". More than 50,000 overseas purchasers from 201 countries and regions participated in the event, shared business opportunities, and worked hard to win Global orders.
Highlights of exhibiting equipment
Zhouxiang Enterprise presented at the exhibition this time with intelligent welding robot workstations, laser welding machines, laser cleaning machines, tailor-welding and straightening machines and other equipment. It perfectly interpreted "Intelligent Made in China" and attracted a large number of foreign businessmen to stop and negotiate.
The tailor welding and straightening machine (vertical type) is a special equipment for assembling, welding and straightening H-shaped steel. It concentrates the processes completed by the assembly machine, gantry welding and straightening machine into one piece of equipment. This H-shaped steel all-in-one machine occupies a small area and has high output per unit production area, which significantly improves production efficiency and reduces equipment costs. It is a highly technological and ideal equipment for the production of lightweight welded H-shaped steel.
Zhouxiang's newly developed ground-rail H-beam welding robot workstation uses self-developed offline programming software, which can import H-beam TEKLA, STEP and other three-dimensional models, automatically judge and identify the welding seam form and welding process, and generate robot program codes. It can be transmitted to the robot remotely. The robot scans and obtains the welding seam position information through the line laser welding seam tracker before welding, guiding the robot to accurately position the welding.
Zhouxiang Enterprise
Participating in this exhibition demonstrates Zhouxiang's strong innovative research and development capabilities in welding and cutting. This time, through face-to-face communication with global buyers, we will further expand our business scale and let "Zhouxiang Intelligent Manufacturing" go to a wider world.
Zhouxiang Enterprise
Specializing in the production of H-beam light and heavy steel production line, box beam production line, horizontal production line, double-splicing welding and straightening automatic line, all kinds of automated customized assembly line; including CNC flame plasma cutting machine, fiber laser flat cutting machine, laser pipe cutting machine, tube and plate integrated machine, hand-held laser welding machine, H-beam assembling machine, gantry submerged arc welding machine, H-beam straightening machine, shot blasting machine, H-Beam assembly welding and straightening integrated machine, welding special machine, auxiliary machine, rolling machine, profile bending machine, various welding machines, etc,
Made by Zhouxiang, professional quality, high precision, high speed.
Leading technology, stable quality, products sell well at home and abroad.