Germany Station! A Close-Up Look At The 2023 Essen Welding And Cutting Exhibition
Views: 1 Author: Site Editor Publish Time: 2023-09-16 Origin: Site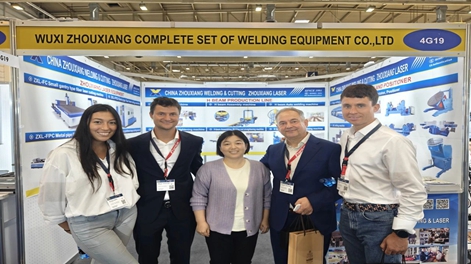 VSCHWEISSEN & SCHNEIDEN 2023
The Welding and Cutting Exhibition in Essen, Germany is the world's leading event in the welding and cutting industry for quality control. It showcases a welding field full of innovation and vitality and can reflect the current status and development trends of international welding technology. With the theme of "providing users with overall welding and cutting solutions", Zhouxiang displayed welding and cutting equipment and solutions with independent intellectual property rights.
At this exhibition, the company's business has carried out exchanges with many users from Slovenia, Bulgaria and other countries. Foreign personnel have shown strong interest in the company's products, especially the design concepts and technical performance of the products, and have fully affirmed them.
Participating in this exhibition demonstrates Zhouxiang's strong welding technology research and development capabilities. It also builds a window for the company to communicate and cooperate with external science and technology, taking a solid step for the company's core key technologies to go abroad and achieve its international development goals.
Zhouxiang Enterprise
Specializing in the production of H-beam light and heavy steel production line, box beam production line, horizontal production line, double-splicing welding and straightening automatic line, all kinds of automated customized assembly line; including CNC flame plasma cutting machine, fiber laser flat cutting machine, laser pipe cutting machine, tube and plate integrated machine, hand-held laser welding machine, H-beam assembling machine, gantry submerged arc welding machine, H-beam straightening machine, shot blasting machine, H-Beam assembly welding and straightening integrated machine, welding special machine, auxiliary machine, rolling machine, profile bending machine, various welding machines, etc,
Made by Zhouxiang, professional quality, high precision, high speed.
Leading technology, stable quality, products sell well at home and abroad.