Good news! Zhouxiang won the title of "little giant" enterprise specialized in Jiangsu Province in 2021
Views: 9 Author: Site Editor Publish Time: 2022-03-07 Origin: Site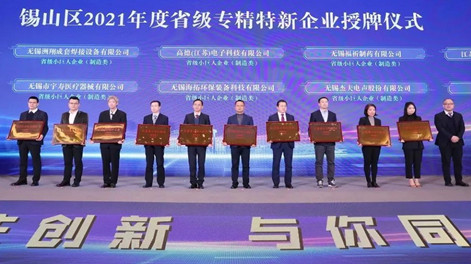 On March 3, 2022, the enabling Action Conference of specialized and special new enterprises in Xishan District was held at the Radisson Select Hotel in Wuxi. Supporting the high-quality development of specialized and new small and medium-sized enterprises and promoting more small and medium-sized enterprises to take the road of specialized and new development is a major strategic decision and deployment made by the CPC Central Committee and the State Council.
In recent years, Xishan District has earnestly implemented the provincial and municipal deployment on the cultivation of specialized and special new "little giant" enterprises, made comprehensive efforts from the multi-dimensional of "policy + capital + talent + service", built a gradient cultivation system for specialized and special new enterprises, and made great efforts to form a good promotion mechanism, policy system and institutional environment. In 2021, the whole region was rated as one national specialized and special new "little giant" enterprise, 20 provincial-level and 54 municipal level. The number of provincial and municipal level enterprises ranked first in the city. At the event site, Zhouxiang won the award of provincial specialized new "little giant" enterprise.
After more than 30 years of development and accumulation, Zhouxiang's main products include: H beam (light and heavy) production line, welding and straightening machine, intelligent H beam assembly welding straightening production line, horizontal H beam production line, box beam production line, steel structure bridge production line, CNC cutting machine, end face milling machine, edge milling machine, CNC plane drill machine, shot blasting machine, bending equipment and other dozens of products, many products have won the honorary titles of provincial high-tech products, provincial key new products and provincial independent innovation products, and have been rated as the silver award of China Science and Technology Expo and the gold award of the second China International New Technology famous and excellent products Expo.