[Green Steel Structure Building] Assembly, Welding And Straightening Integral Machine
Views: 4 Author: Site Editor Publish Time: 2023-04-12 Origin: Site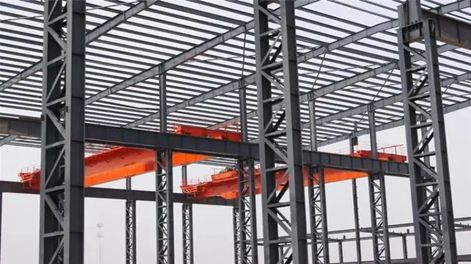 Green Steel Buildings
As China attaches great importance to the sustainable development of green economy in the future, green energy-saving buildings have gained unprecedented development trend. Compared with traditional concrete buildings, steel structure buildings replace reinforced concrete with steel plates or sections, which have higher strength and better seismic resistance. And because the components can be factory-made and installed on site, thus greatly reducing the construction period. Since steel can be reused, it can greatly reduce construction waste and be more green, thus it is widely adopted in industrial buildings and civil buildings around the world.
Zhouxiang Intelligent Welding And Cutting Equipment
Zhouxiang has been engaged in the intelligent welding and cutting equipment industry for more than 30 years, specializing in providing one-stop solutions for customers. The company's product, h/t-beam assembling welding and straightening integral machine, can simultaneously complete the precise assembling and forming of h-beam, submerged arc welding, and the correction of flange plate welding deformation on the same machine. Compared with traditional equipment, it eliminates the need for lifting and turning between processes during the production of conventional multiple h-beam production equipment, thus greatly improving efficiency.
Advantages Of Assembly Welding And Straightening Integral Machine
1、Intelligent operation
High degree of automation, can start with one key, automatic assembly line operation
2、Reduce human and material resources
Can reduce the number of normal production line operators by more than 2 times, 2 workers can ensure production
3、Saving work time and high output efficiency
Reduce the flow of workpieces, shorten the time of making and polishing workpieces, and increase the output efficiency.
4、Small footprint, space saving
Small footprint, save installation space, increase output of site area
Zhouxiang Enterprise
Specializing in the production of H-beam light and heavy steel production line, box beam production line, horizontal production line, double-splicing welding and straightening automatic line, all kinds of automated customized assembly line; including CNC flame plasma cutting machine, fiber laser flat cutting machine, laser pipe cutting machine, tube and plate integrated machine, hand-held laser welding machine, H-beam assembling machine, gantry submerged arc welding machine, H-beam straightening machine, shot blasting machine, H-Beam assembly welding and straightening integrated machine, welding special machine, auxiliary machine, rolling machine, profile bending machine, various welding machines, etc,
Made by Zhouxiang, professional quality, high precision, high speed.
Leading technology, stable quality, products sell well at home and abroad.