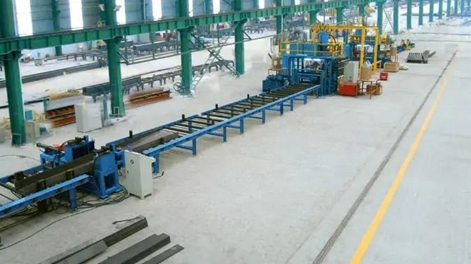 Horizontal All-In-One Machine (Horizontal Production Line)
The H-beam production line (horizontal) is a special welding line for assembling steel plates into H-beams and then welding them. Compared with the ordinary H-beam vertical welding line, it has the characteristics of higher productivity and less deformation when welding.
Features of the horizontal all-in-one machine
1. When assembling, you only need to spot weld the end of the workpiece (the welding length is about 100-150mm, no need to spot weld the whole length of the workpiece), and then you can enter the next welding process, the welding machine will position the three "bulk plates" and then weld them, so the assembling efficiency is greatly improved.
2. Adopting the welding method that the workpiece is placed horizontally (the H steel web is horizontal and the flange plate is vertical) and the welding gun does not move the workpiece, the two welding seams at the two ends of the H steel are welded at the same time, which reduces the distortion and deformation of the workpiece caused by the welding heat.
3. Configured with welding power source, single arc double wire welding, using 1.6mm fine wire, the fastest welding speed can reach 1.9m/min, good welding seam formation and beautiful appearance.
4. Since the automation degree of this production line is greatly improved compared with the traditional production line, it can reduce the labor intensity of workers and operators, and only 2-3 operators are needed for the normal production of this production line. It can adapt to the production of variable section H-beam ≤ 15°.
Vertical all-in-one machine (H beam assembly, welding and straightening integral machine)
The integrated machine for assembling, welding and straightening H-beams (vertical one) is a special equipment for assembling, welding and straightening H-beams. It concentrates the processes that are done by three machines, namely, assembling machine, gantry welding and straightening machine, in one machine. This H-beam all-in-one machine occupies a small area and has a high output per unit of production area, which significantly improves production efficiency and reduces equipment costs, making it the most ideal machine for producing light welded H-beams with high technological content.
Advantages of the integrated welding and straightening machine
1、Intelligent operation
High degree of automation, can start with one key, automatic assembly line operation
2、Reduce human and material resources
Can reduce the number of normal production line operators by more than 2 times, 2 workers can ensure production
3、Saving work time and high output efficiency
Reduce the flow of workpieces, shorten the time of making and polishing workpieces, and increase the output efficiency.
4、Small footprint, space saving
Small footprint, save installation space, increase output of site area
Zhouxiang Enterprise
Specializing in the production of H-beam light and heavy steel production line, box beam production line, horizontal production line, double-splicing welding and straightening automatic line, all kinds of automated customized assembly line; including CNC flame plasma cutting machine, fiber laser flat cutting machine, laser pipe cutting machine, tube and plate integrated machine, hand-held laser welding machine, H-beam assembling machine, gantry submerged arc welding machine, H-beam straightening machine, shot blasting machine, H-Beam assembly welding and straightening integrated machine, welding special machine, auxiliary machine, rolling machine, profile bending machine, various welding machines, etc,
Made by Zhouxiang, professional quality, high precision, high speed.
Leading technology, stable quality, products sell well at home and abroad.