How to choose "H beam flange straightening machine"
Views: 14 Author: Site Editor Publish Time: 2022-06-08 Origin: Site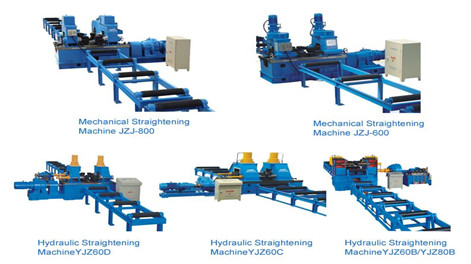 H beam flange striaghtening machine is specially used for straightening the deformed flange plate after welding. Zhouxiang have several models for different applications. Following information will help for choosing a right model for you:
1. Mechanical type
Two straighten wheels will press the flange,one main driving wheel will support the center of flange, meanwhile, the main driving wheel will feed forward, so that can straighten the whole beam. Mechanical type is suitable for maximum flange thickness 40mm when plate material at Q235.
Details can refer to:
https://www.cutting-welding.com/h-beam-flange-straightening-machine.html
2. Hydraulic type
Hydraulic type is mainly used for thick flange thickness like 40mm, 60mm, 80mm when plate material at Q345, and structure also differs, like model YJZ-60D uses same principle as mechanical type, while model YJZ-60B and YJZ-80B is different, two upper straightening roller press two side of flange plate, one bottom roller support the center of flange, through the pushing of oil cylinder then up-press to the center of flange that reach to staightening the deformation of flange plate. There also have elevating support cylinder on convey roller to work with the main machine.
Details can refer to:
https://www.cutting-welding.com/H-Beam-Hydraulic-Straightening-Machine-pd40578066.html
Zhouxiang's main products: H beam production line, H beam assembly machine, Gantry type H beam welding machine, H beam straightening machine, H beam assembly welding straightening 3 in 1 machine, Horizontal H beam production line, Box beam production line, CNC plasma cutting machine, End face milling machine, Edge milling machine, CNC drilling machine, Shot blasting machine, Welding manipulator, Welding positioner, Welding rotator, Plate rolling machine, Profile bending machine, Fiber laser cutting machine, Handheld fiber laser welding machine.