Installation under epidemic situation
Views: 28 Author: Site Editor Publish Time: 2021-12-31 Origin: Site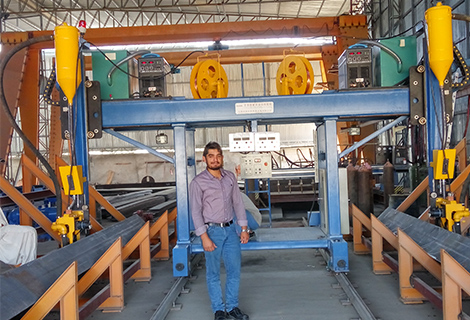 Affected by the epidemic at home and abroad, international travel has become inconvenient. After our customer received the machines, we sometimes cannot arrange installation engineer on time.
In order not to affect customer's production plan, since the middle of last year, we have started to guide customers about installation online and remotely. Till now, we have helped a lot of customers finishing the installation and commission, like Horizontal H beam line in Pakistan, H beam assembly welding straightening integral machine in UAE, Edge milling machine and Profile bending machine in Saudi Arabia, Heavy duty H beam assembly machine in India, H beam welding line in Ethiopia.
Like the customer in Ethiopia, they were bought our machines in 2019, while when they received the machine, their factory haven't finish the construction, so the installation was delayed to year 2020 after the Convid happen. At the beginning, we plan to wait, while it seems Convid will not end in a short time, while Ethiopia is not nearby for international travel, so we decided to help customer to install the machines on line.
We prepared all the installation documents and steps for them, by guiding videos, picturs, and video calls, their machines run successfully.
After working with customers several times, we have developped a complete system of online installation guide, so don't worry about installation during epidemic, we will serve customers as good as technician installing on site.