Invitation Letter丨Zhouxiang Appears at MTA Vietnam 2023
Views: 1 Author: Site Editor Publish Time: 2023-07-01 Origin: Site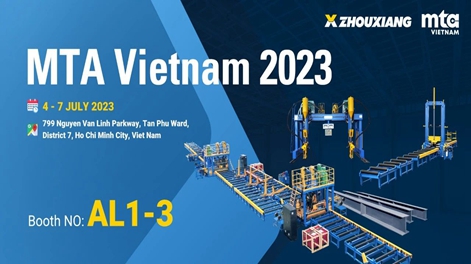 MTA Vietnam
Vietnam Ho Chi Minh City International Precision Engineering, Machine Tool and Metal Processing Technology Exhibition is currently recognized by the industry as the most professional and largest machine tool, precision engineering and metal processing technology exhibition in Vietnam. The MTA Vietnam exhibition is of great significance to the directional development of Vietnam's economy, and brings good business opportunities to domestic and foreign exhibitors in various businesses such as economic cooperation, technology transfer, investment, trade negotiation, import and export, and product agency. The best platform for trade institutions, economic organizations, and investors to exchange and cooperate.
Booth Information
Wuxi Zhouxiang invites you to visit the exhibition
Booth No.: AL1-3
Exhibition time: 2023.7.4-7.7
Venue: Ho Chi Minh City, Vietnam
Welcome people from all walks of life to come and taste
The Main Products Of Zhouxiang Enterprise
As a high-tech enterprise specializing in the design and manufacture of welding and cutting automation equipment, Zhouxiang is committed to providing one-stop automatic welding and cutting solutions for global customers. Its products cover all parts of the country and are exported to Europe, America, Southeast Asia and the Middle East. . Welcome new and old friends to visit and investigate!
Zhouxiang Enterprise
Specializing in the production of H-beam light and heavy steel production line, box beam production line, horizontal production line, double-splicing welding and straightening automatic line, all kinds of automated customized assembly line; including CNC flame plasma cutting machine, fiber laser flat cutting machine, laser pipe cutting machine, tube and plate integrated machine, hand-held laser welding machine, H-beam assembling machine, gantry submerged arc welding machine, H-beam straightening machine, shot blasting machine, H-Beam assembly welding and straightening integrated machine, welding special machine, auxiliary machine, rolling machine, profile bending machine, various welding machines, etc,
Made by Zhouxiang, professional quality, high precision, high speed.
Leading technology, stable quality, products sell well at home and abroad.