Invitation letter丨Zhou Xiang appeared at the 2023 Vietnam MTA Vietnam Exhibition
Views: 1 Author: Site Editor Publish Time: 2023-08-05 Origin: Site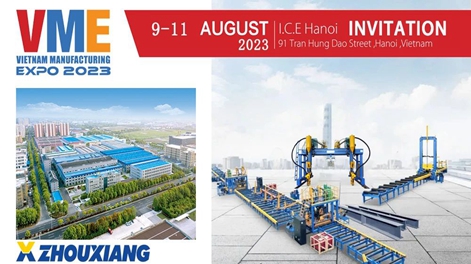 VME Vietnam 2023

Approved by the Ministry of Commerce and the China Council for the Promotion of International Trade, the Electronic Information Industry Branch of the Council for the Promotion of International Trade under the Ministry of Industry and Information Technology will lead Chinese companies to actively explore the mature and fast-growing Vietnamese market along the "Belt and Road".
The 2023 Vietnam International Industrial Manufacturing and Supporting Exhibition is a key promotion brand exhibition in Vietnam and the flagship exhibition of Vietnam Industry 4.0. The exhibition has received strong support from various ministries and commissions of Vietnam and the People's Government of Hanoi, and gathered leading manufacturing companies from all over the world. With its good reputation and extensive publicity, the annual exhibition has attracted attention from the same industry at home and abroad.
Booth information
Wuxi Zhouxiang invites you to visit the exhibition
Booth No.: N11
Exhibition time: 2023.8.9-8.11
Venue: Hanoi, Vietnam
Welcome people from all walks of life to visit
Zhouxiang Enterprise
Specializing in the production of H-beam light and heavy steel production line, box beam production line, horizontal production line, double-splicing welding and straightening automatic line, all kinds of automated customized assembly line; including CNC flame plasma cutting machine, fiber laser flat cutting machine, laser pipe cutting machine, tube and plate integrated machine, hand-held laser welding machine, H-beam assembling machine, gantry submerged arc welding machine, H-beam straightening machine, shot blasting machine, H-Beam assembly welding and straightening integrated machine, welding special machine, auxiliary machine, rolling machine, profile bending machine, various welding machines, etc,
Made by Zhouxiang, professional quality, high precision, high speed.
Leading technology, stable quality, products sell well at home and abroad.