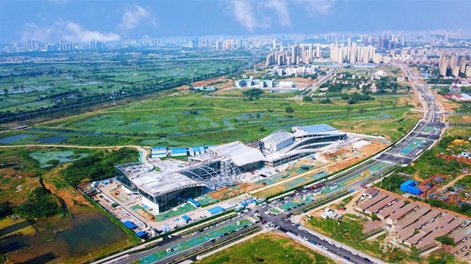 The construction industry is a key area for my country to achieve its 2030 carbon emission reduction target
Use waste to make high-quality walls, build houses like "building blocks", and keep indoors warm in winter and cool in summer without air conditioning... In recent years, more and more green buildings have "entered" people's lives. While helping to save energy and reduce carbon emissions, it also improves everyone's quality of life. The National Housing and Urban-Rural Construction Work Conference proposed to steadily promote carbon neutrality in the urban and rural construction sector, and promote the transformation and upgrading of the construction industry. At the same time, it clarified the goal and key tasks of achieving carbon peak in the urban and rural construction field by 2030, and required the promotion of new residential buildings. and public buildings to reduce energy consumption and carbon emissions.
The construction field is an important field of energy consumption and carbon emission in my country, and it is also a key field for my country to achieve the goal of carbon emission reduction in 2030. The "14th Five-Year Plan" Building Energy Conservation and Green Building Development Plan previously issued by the Ministry of Housing and Urban-Rural Development proposed that by 2025, new buildings in cities and towns will be fully built into green buildings, and more than 350 million square meters of energy-saving renovation of existing buildings will be completed. Ultra-low energy consumption and nearly zero energy consumption buildings are more than 50 million square meters, and prefabricated buildings account for 30% of the new urban buildings that year.
Today, my country's new green building area accounts for more than 90% of new buildings, and the national new green building area has increased from 4 million square meters in 2012 to more than 2 billion square meters in 2021. In 2021, the proportion of newly built green buildings in cities and towns will reach 84%, the cumulative number of green building label projects will reach 25,000, and 2,134 green building material products will be certified.
Improve the "green content" of building materials
In the renovation project of the beautiful campus in Shenzhen, unlike the traditional gray sand masonry and masonry structures, the project uses a composite structure of Jinbang board + rock wool insulation. The person in charge of the project told reporters that Jinbang board is made of cement as the base material and added with power plant waste fly ash, and is extruded under high pressure and vacuum. It not only has low energy consumption, but also has no "three wastes" emissions. Compared with the traditional Panax notoginseng wall, this composite wall has good heat insulation and heat preservation effects, which not only reduces the overall energy consumption of the building, but also meets high standards in terms of sound insulation and fire protection.
In the whole country, this is not an exception. As the most important "parts" of the whole building, building materials directly determine the "green" degree of the building. The data shows that for every 10,000 yuan increase in output value in the construction industry, at least 3,500 yuan in building materials will be consumed. As a traditional industry of raw material production, the building materials industry not only contributes high output value, but also contributes high energy consumption and high emission quotas.
The development of green building materials is inseparable from high-level planning of top-level design. In 2013, the General Office of the State Council forwarded the "Green Building Action Plan" formulated by the National Development and Reform Commission and the Ministry of Housing and Urban-Rural Development, clarifying the requirements for vigorously developing green building materials; in 2014, the Ministry of Housing and Urban-Rural Development and the Ministry of Industry and Information Technology jointly issued The "Green Building Materials Evaluation and Labeling Management Measures" officially clarified the definition of "green building materials"; in 2016, the General Office of the State Council issued "Opinions on Establishing a Unified Green Product Standard, Certification and Labeling System", which means that green building materials have entered a new stage of development ——Changed from "evaluation" to "certification"; in 2019, the State Administration for Market Regulation, the Ministry of Housing and Urban-Rural Development, and the Ministry of Industry and Information Technology jointly issued the "Implementation Plan for Green Building Material Product Certification", marking the full transformation of green building material evaluation into certification; 2020 In 2010, the Ministry of Housing and Urban-Rural Development and the Ministry of Finance jointly issued the "Notice on the Pilot Work of Government Procurement Supporting Green Building Materials to Improve Building Quality", and carried out the pilot work of government procurement supporting green building materials to improve building quality, which greatly promoted the use of green building materials in engineering construction. In 2022, the Ministry of Industry and Information Technology, the National Development and Reform Commission, the Ministry of Ecology and Environment, and the Ministry of Housing and Urban-Rural Development jointly issued the "Building Materials Industry Carbon Peak Implementation Plan", It marks that the building materials industry will enter a stage of green development.
"Nowadays, vigorously developing green building materials is no longer a multiple-choice question, but a must-answer question. It is not only a preferred option but also a mandatory option." Luan Jun, secretary-general of the China Building Materials Engineering Construction Association, said. In recent years, high-quality construction industries such as green buildings, prefabricated buildings, near-zero energy buildings, and healthy buildings have entered the fast lane, which has created a huge market demand for the application of green building materials. During the "14th Five-Year Plan" period, the application proportion of green building materials in new urban buildings will reach 70%, and the selection of green building materials has been successively included in the green building evaluation standard system, the green construction full-process implementation system and the government procurement pilot work. The role of green building material products as the "health certificate", "identity card" and "passport" for the sustainable development of the building material industry has become increasingly prominent.
Without the greening of building materials, it is impossible to talk about the greening of buildings. Today, traditional building materials such as exterior wall bricks and mortar are increasingly difficult to find in new buildings, and they are replaced by building energy-saving and new building materials including energy-saving insulation materials, new coatings and waterproof materials, and green energy-saving building technology solutions. Various new products and technologies. With the continuous application of new technologies and materials, buildings will be safer, more durable, healthier and more comfortable.
Prefabricated buildings realize green construction
"We fully automatic produce SPCS cavity walls in an unmanned factory. The wall components are transported in batches to the construction site for assembly, which can realize full prefabrication of wall columns, beams and slabs, and full assembly above and below ground." System Solution of Sany Construction Engineering Architectural Design and Research Institute Zheng Hao, deputy chief designer of the Institute, said that compared with ordinary concrete structures, SPCS assembled monolithic composite concrete structures have obvious advantages. Not only the weight of the components is lighter, it is convenient for transportation and hoisting, and the connection method is also simpler, but also the safety has been greatly improved, effectively reducing the hidden dangers of on-site construction safety.
"Prefabricated construction projects are like 'building blocks'. Factory production and on-site integration can reduce pollution, save resources and reduce costs while improving production efficiency." Hu Jiaxi, a senior architect at the China Academy of Building Research, said that prefabricated construction The method has achieved remarkable results in energy saving, material saving, water saving and emission reduction. It can reduce construction waste discharge, water resource consumption, save wood, cement mortar and other building materials, and fundamentally change the "dirty and messy" situation on the construction site. Effectively reduce air pollution and construction waste emissions during the construction process, minimize environmental pollution such as dust and noise, and contribute to the improvement of the urban environment and the construction of ecological civilization. More importantly, the development of new-type construction industrialization can completely change the previous competitive model of low construction technology, low technological content, and simple competition for labor costs. It will closely integrate industrial production and construction processes with informatization, emphasizing technological progress and management. Model innovation, focusing on improving the quality of laborers, focusing on shaping the corporate brand and image, so as to form the core competitiveness and first-mover advantage of the enterprise.
The "14th Five-Year" Construction Industry Development Plan issued by the Ministry of Housing and Urban-Rural Development clearly states that it is necessary to vigorously develop prefabricated buildings. Build a standardized design and production system for prefabricated buildings, promote intelligent upgrading of production and construction, expand the use of standardized components and parts, and improve the comprehensive benefits of prefabricated buildings. Previously, the Ministry of Housing and Urban-Rural Development successively issued the "Guiding Opinions on Promoting the Coordinated Development of Intelligent Construction and Construction Industrialization" and "Several Opinions on Accelerating the Development of New-type Construction Industrialization", detailing the staged development goals, key tasks and safeguard measures, and guiding local governments Formulate specific support measures in terms of planning approval, land supply, and finance to promote the development of prefabricated buildings. In November 2022, the General Office of the Ministry of Housing and Urban-Rural Development issued the "List of Reproducible and Promotional Experience in the Development of Prefabricated Buildings (First Batch)", summarizing the experience and practices of various places in policy guidance, technical support, and industrial development of prefabricated buildings. to create a demonstration effect.
All localities are also adapting to local conditions, vigorously developing prefabricated buildings, and promoting the coordinated development of intelligent construction and construction industrialization. Hefei City, Anhui Province has given incentives and subsidies to prefabricated affordable housing (including rural housing) invested in counties and districts. Since 2021, it has issued 206 million yuan in incentives and subsidies; Shenzhen City, Guangdong Province has clearly included the incremental cost of prefabricated government-invested projects The cost of project construction has solved the problem of investment accounting basis for construction units; Shandong Province has initially formed three relatively concentrated prefabricated construction industry clusters in the provincial capital, Jiaodong, and southern Shandong, and cultivated 34 national-level production bases and 121 provincial-level production bases; Chengdu City, Sichuan Province actively promotes prefabricated components in municipal projects such as urban comprehensive pipe corridors. More than 20 interchange bridges in the urban area and comprehensive pipe corridor projects with an investment of 8 billion yuan are all prefabricated; Fujian Province supports 9 key enterprises to establish prefabricated components. The training base for construction workers has trained more than 5,500 industrial workers.
The area of new prefabricated buildings in the country has increased from 72.6 million square meters in 2015 to 740 million square meters in 2021, and the proportion of new buildings has increased from 2.7% to 24.5%. The scale of the national prefabricated construction market exceeds 2 trillion yuan, and more than 500 prefabricated construction demonstration projects have been established, and 328 prefabricated construction industry bases have been cultivated. During the "Thirteenth Five-Year Plan" period, the number of prefabricated component manufacturers in the country increased from less than 200 to 1,157, and the market size of special production and transportation equipment exceeded 10 billion yuan, promoting the development of construction robots and construction information industries. Prefabricated building design, production, construction, prefabricated decoration and related supporting industrial chains have been initially formed. The rapid development of prefabricated buildings has promoted the transformation and upgrading of the whole process of engineering construction, driven the improvement of the overall level of the construction industry and the development of green and low carbon, with remarkable results.
Promoting green and low-carbon development with scientific and technological innovation
"This is a building that can 'breathe'." Ye Qing, chairman of Shenzhen Institute of Building Research Co., Ltd., said proudly. The "building" Ye Qing mentioned is the company's scientific research office building, named "Jianke Building". As a three-star green building, the Jianke Building runs through the concept of sharing and symbiosis throughout the entire process from design to operation, and applies about 40 green technology measures, including passive energy-saving design, natural lighting and ventilation, artificial wetland, three-dimensional greening, and complementary scenery Energy saving, photoelectric curtain wall, temperature and humidity independent control of air conditioning, etc., to create a safe, healthy and efficient living environment with the lowest resource consumption, and restore the ecological environment, so as to realize the harmonious coexistence of flowers, plants, insects, birds and people.
Compared with office buildings of the same type in Shenzhen, the Jianke Building can reduce operating costs by about 1.5 million yuan per year, of which 1.45 million yuan in electricity costs, 54,000 yuan in water costs, and 610 tons of standard coal can be saved compared with conventional buildings. Emit 1600 tons of carbon dioxide.
Green buildings like the Jianke Building are not alone. In recent years, thanks to favorable policies, my country's green buildings have achieved leapfrog development. As early as 2019, the Ministry of Housing and Urban-Rural Development systematically proposed the concept, development goals and implementation paths of green construction in the "Urban and Rural Construction Committed to Green Development" series of textbooks. Afterwards, green construction pilot projects were carried out in Hunan Province, Shenzhen City of Guangdong Province, and Changzhou City of Jiangsu Province to explore replicable and popularized green construction technology systems, management systems, implementation systems, and quantitative assessment and evaluation systems. The Ministry of Housing and Urban-Rural Development also organized the compilation of the "Green Construction Technical Guidelines (Trial)", which not only provides guidance for the smooth implementation of green construction pilot work, but also provides a basis for the promotion of green construction throughout the country and effectively guides the promotion of green construction nationwide and norms, providing strong support for the further formation of a comprehensive green construction implementation system in my country.
The proportion of green buildings in my country's cities and towns in new buildings has increased significantly from 2% in 2012 to 77% in 2020. The energy-saving goal of building energy conservation accounting for 65% has been basically popularized. More than 10 provinces and cities including Beijing, Tianjin, Shanghai, Chongqing, Jiangsu, Hebei, Shandong, Guangxi, and Fujian have required new buildings to fully implement green building standards. Beijing, Shanghai and other places also require government-invested buildings and large public buildings to implement two-star or higher standards. 15 provinces and cities including Jiangsu and Zhejiang issued the "Green Building Regulations" and other regulatory documents to provide legal support for the promotion of green buildings. By the end of 2021, a total of 8.591 billion square meters of green buildings have been built nationwide.
As my country's green buildings have achieved leapfrog development, the traditional building energy supply structure and application methods have undergone revolutionary changes. Enterprises in the entire construction industry need to jointly promote technological innovation and guide the transformation and upgrading of the entire building green and low-carbon industrial chain. "For example, the thickness of external wall insulation materials for building energy-saving renovation has reached 15 cm to 18 cm. If the energy-saving standards are further improved, the 'padded jacket' worn on the wall may be thicker. In this way, the risk of insulation layer falling off and flammability will also increase. In the future, it is necessary to actively develop external insulation materials with the same thermal insulation effect but lighter, thinner, better fire performance, and longer service life." Wu Jingshan, secretary-general of China Building Energy Conservation Association, said that in addition to insulation materials, high-efficiency energy-saving doors and windows, Building materials such as high-performance concrete and waterproofing of joints in prefabricated buildings need to rely on stronger technical support to improve the energy efficiency of buildings.
Today, the sky is getting bluer, the mountains are getting greener, and the water is getting clearer. The development concept of "lucid waters and lush mountains are golden mountains and silver mountains" has been deeply rooted in the hearts of hundreds of millions of people and has become the consensus of the whole society. As an important carrier to promote green development in an all-round way, China's construction industry has been going "green" for ten years, constantly creating "green miracles", and has become a powerful driving force for the construction of a beautiful China.
Zhouxiang Enterprise
Specializing in the production of H-beam light and heavy steel production line, box beam production line, horizontal production line, double-splicing welding and straightening automatic line, all kinds of automated customized assembly line; including CNC flame plasma cutting machine, fiber laser flat cutting machine, laser pipe cutting machine, tube and plate integrated machine, hand-held laser welding machine, H-beam assembling machine, gantry submerged arc welding machine, H-beam straightening machine, shot blasting machine, H-Beam assembly welding and straightening integrated machine, welding special machine, auxiliary machine, rolling machine, profile bending machine, various welding machines, etc,
Made by Zhouxiang, professional quality, high precision, high speed.
Leading technology, stable quality, products sell well at home and abroad.