One customer from Sultanate of Oman bought our manipulator and rotator for welding large cylinder.
Views: 54 Author: Site Editor Publish Time: 2019-07-16 Origin: Site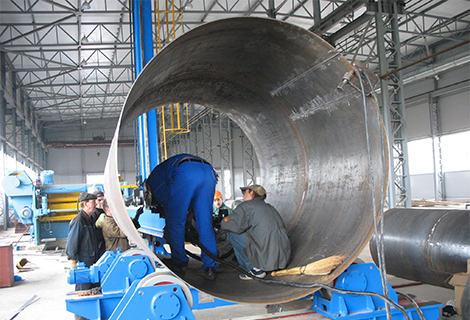 In 2017, one customer from Sultanate of Oman bought our welding manipulator and welding rotator for welding large cylinder. After machine arrived, customer installed the machines by themselves.
At the end of 2016, one domestic company suddenly contacted us, said their technician was installing the new machines at customer's factory, there also had one set Zhouxiang machine which needed urgent maintenance. This is because the relevant staff quit and customer lost our contact way, so they cannot get in touch with us. This technical just knew our company and helped customer to contact us.
After, during conversation with customer, we knew that they installed and used our machine out door with simple protection because of lifting limit in their factory, so machine parts always got wet and caused trouble. Now they had a big order and need our engineer to repair the machine immediately.
But time was near our New Year Festival, our engineer were all planing to go back to hometown after finishing work at hand. If they went to Oman, means they have to spend the festival at abroad. In considering of the customer's business, our engineer agrees to go to help customer.
After checking the machines, our engineer listed the spares need to replace, then we delivered the spare parts to customer by DHL immediately without payment in advance, all the needed parts were replaced on machine and commissioning correctly. Our engineer also trained the customer's operator how to use, maintain, especially protect the machines to make sure machines will not broken again because of wrong use.
Now, customer feedback the machines are under normal use, and they also finished the new order. They are quite satisfied with our after-sale service, and purchased new machines in 2017.