Prevention and control of epidemic situation, welcome back to work
Views: 9 Author: Site Editor Publish Time: 2020-02-20 Origin: Site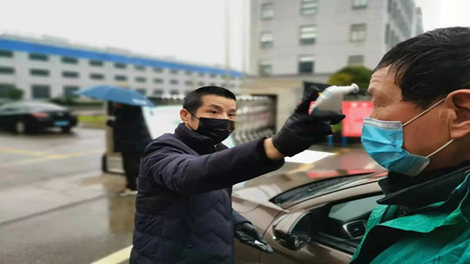 After the company's resumption of work and the unremitting efforts of the members of the epidemic prevention and control team, the company received the notice of resumption of work from the prevention and control emergency headquarters of Donggang Town on February 10, and Zhouxiang enterprise was listed in the first batch of resumption of work in Donggang Town. The first batch of employees returned to work was 128, who returned to work on February 11. Novel coronavirus pneumonia is novel coronavirus pneumonia. The company is taking measures to ensure that it is safe, smooth and orderly.
Wear a mask and take a temperature measurement to ensure safety first
The warning signs standing at the company's gate are particularly striking, reminding everyone who enters the plant must wear masks, and the members of the prevention and control team measure the temperature of each employee who enters the plant at the guard room. The employees who drive a private car to work, roll down the windows and turn off the air conditioner in advance to ensure the accuracy of temperature measurement, and make temperature records, so that the employees with normal temperature can enter the plant. Non company personnel are generally forbidden to enter the factory. All personnel entering the factory need to register and measure the temperature, and the prevention and control personnel spray diluted 84 disinfectant to visitors and vehicles. Visitors also need to wear disposable gloves distributed by the company.
Do a good job in details to prevent and control the epidemic in an all-round way
In order to provide a safe working environment for everyone, the prevention and control team arranged a special person to disinfect the plant twice before returning to work. After returning to work, the team would kill the office area, production area, living area, public area and canteen three times in the morning, middle and evening of each day, and post the epidemic prevention and control posters on the bulletin board to improve the employees' awareness of epidemic prevention and control. In addition, the elevators and central air conditioning in the office building are all powered off and out of service. Each employee will be given two disposable masks a day (when taking temperature in the morning and noon), and hand sanitizer free will be distributed to each workshop and each office floor. The company has also set up a collection box for waste masks in the guard room, which will collect and disinfect the used masks in a unified way. These small warm-hearted services have been praised by everyone.