[Secondary Processing Equipment] Multi-Profile Cutting Machine
Views: 4 Author: Site Editor Publish Time: 2023-04-11 Origin: Site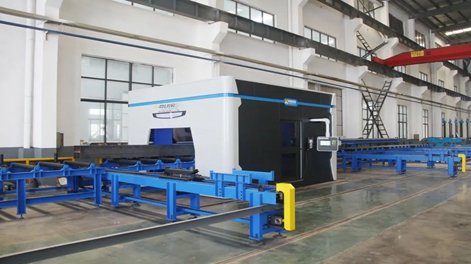 Multi-Profile Cutting Machine
As a special processing equipment for finished profiles, Zhouxiang multi-profile cutting machine is widely used in the steel structure assembly building.
Multi-profile cutting machine can realize automatic profile loading, automatic feeding, automatic cutting and automatic conveying operation. High-end three-dimensional space flexible robotic cutting application realizes bevel cutting function, and the profile and torch adopt positioning function; the cutting machine can realize thermal cutting of H-beam, I-beam, channel and angle steel in any lap form and open hole, and the cutting methods are plasma and flame cutting.
Equipment Technical Specifications
Technical Specifications

Cutting Type
H-Beam, Channel, Angle Steel, Etc
Cutting Form
Fine Plasma And Flame
Effective Cutting Length
≤15000MM
Cutting Speed
10-3500MM/MIN
Cutting Thickness
≤ 20MM
Cutting Length Deviation
±1.5MM
* Angle: 100-400MM.
Round pipe diameter:100-600MM.
Square/rectangular pipe: 100-500MM.
H-beam: wing plate 100-300MM, web plate 100-600MM
Control System Functions
The main body of this control system is Japanese Fanuc robot and equipped with offline programming simulation software. It has humanized interactive interface, simple operation, intuitive 3D imaging; dynamic cutting simulation at a glance, breakpoint memory with the original trajectory back and then return to cut function; fault self-diagnosis and operation error intelligent discrimination, automatic alarm display, automatic diagnosis function; rich, expandable macro program call and editing function; Chinese display, human-machine dialogue function. With online and offline programming mode, it can exchange information with the outside through U disk, network, etc., and can input temporary modification manually. The loading and discharging of this equipment and other auxiliary function units are controlled by the PLC of the robot expansion unit, and the robot communicates with each other through the ETHCAT network to exchange status information and operation instructions, which is integrated and highly automated.
Cutting Samples

Zhouxiang Enterprise
Specializing in the production of H-beam light and heavy steel production line, box beam production line, horizontal production line, double-splicing welding and straightening automatic line, all kinds of automated customized assembly line; including CNC flame plasma cutting machine, fiber laser flat cutting machine, laser pipe cutting machine, tube and plate integrated machine, hand-held laser welding machine, H-beam assembling machine, gantry submerged arc welding machine, H-beam straightening machine, shot blasting machine, H-Beam assembly welding and straightening integrated machine, welding special machine, auxiliary machine, rolling machine, profile bending machine, various welding machines, etc,
Made by Zhouxiang, professional quality, high precision, high speed.
Leading technology, stable quality, products sell well at home and abroad.