Technology Leads And Innovation Drives | Zhouxiang Participates In The 2023 National Construction Steel Structure Science And Technology Innovation Conference
Views: 0 Author: Site Editor Publish Time: 2023-11-11 Origin: Site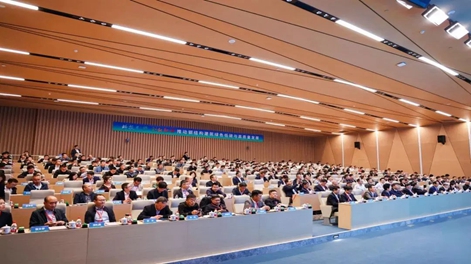 2023 National Architecture
Steel Structure Science and Technology Innovation Conference
From November 3rd to 5th, the three-day 2023 National Construction Steel Structure Science and Technology Innovation Conference was grandly held in Jinan, Shandong. Zhouxiang Enterprise participated in this meeting to further strengthen exchanges and learning and promote scientific and technological innovation in building steel structures.
With the theme of "Technology-led, innovation-driven, promoting green and low-carbon development of steel structure buildings", this conference aims to implement new development concepts, enhance the independent innovation capabilities of enterprises in the construction steel structure industry, strengthen application traction and industrial chain integration, and convey policy information, exchange innovation results, and build and improve my country's green and low-carbon technological innovation system for building steel structures.
At the forum, Zhouxiang Enterprise, as a high-tech enterprise specializing in the design and manufacturing of welding and cutting automation equipment, is committed to providing one-stop automated welding and cutting solutions to global customers. It comprehensively displays the corporate image, enhances brand value, exchanges new technology products, and brings scientific and technological innovation results to the steel structure processing equipment industry.
Zhouxiang Enterprise
Specializing in the production of H-beam light and heavy steel production line, box beam production line, horizontal production line, double-splicing welding and straightening automatic line, all kinds of automated customized assembly line; including CNC flame plasma cutting machine, fiber laser flat cutting machine, laser pipe cutting machine, tube and plate integrated machine, hand-held laser welding machine, H-beam assembling machine, gantry submerged arc welding machine, H-beam straightening machine, shot blasting machine, H-Beam assembly welding and straightening integrated machine, welding special machine, auxiliary machine, rolling machine, profile bending machine, various welding machines, etc,
Made by Zhouxiang, professional quality, high precision, high speed.
Leading technology, stable quality, products sell well at home and abroad.