Xue Haoyue, Secretary Of Wuxi Municipal Committee, Visited And Researched Zhou Xiang Enterprise
Views: 3 Author: Site Editor Publish Time: 2023-02-11 Origin: Site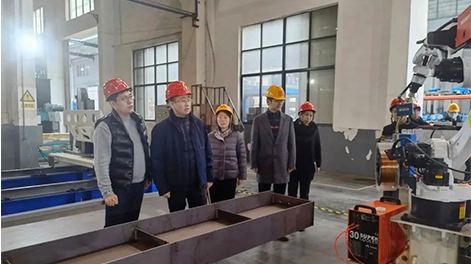 Recently, Xue Haoyue, secretary of Wuxi Municipal Committee of the Youth League, visited the laser workshop and automated welding and cutting workshop of Zhou Xiang Enterprise. Xu Dan, general manager of Zhou Xiang, introduced in detail the market space and future direction of the company's products, and also replied about the usage cycle and the zero-complete ratio of the products and the influence of the live mode of industrial products on brand promotion. Secretary Xue highly recognized the achievements of Zhou Xiang enterprise and encouraged Zhou Xiang to focus on the core technology research and protection, further enhance the market competitiveness and develop continuously.
During the investigation and study, Secretary Xue also had a discussion and exchange with the relevant personnel of the enterprise, and learned in detail about the introduction of young talents and project promotion of the enterprise. Secretary Xue said that the Communist Youth League should further strengthen the role of bridges and ties, and build a sharing platform for the development of young talents in the enterprise. To do a good job of youth services, according to the real needs of enterprises and young people, provide assistance in the introduction of talents, marriage and dating, etc., and carry out various forms of activities that young people like, to help enterprises retain talents and take root.

As a member of Wuxi Youth Enterprise Association with strong representation, Zhouxiang Enterprise should take up more corporate social responsibility with more professional and precise services. The league system should also rely closely on social organizations such as the Youth Enterprise Association and the Youth Creative Union, and continue to play a strong youth force in gathering the city's industrial transformation and high-quality development.