【Zhou Xiang】The Exhibition Is Full Of Harvest
Views: 5 Author: Site Editor Publish Time: 2023-04-24 Origin: Site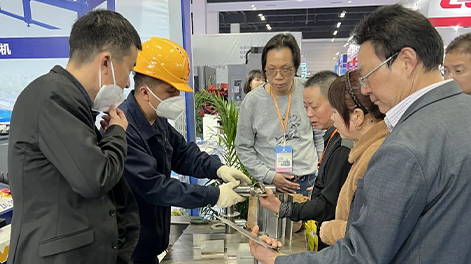 March Taihu International Machine Tool Show
From March 10 to 12, 2023 Wuxi Taihu International Machine Tool Show, in these three exciting days, Zhouxiang was pleased to welcome visitors from all over the world and gained a lot.
Through this exhibition, Zhouxiang not only demonstrated its products and innovative technology, but also showed the strength of the company to the industry, which played a good role in further enhancing the influence of the brand of Zhouxiang in the field of steel structure intelligent equipment.
April The 133rd Canton Fair
From April 15 to 19, the Canton Fair resumed its offline debut after the epidemic. Our products in this exhibition attracted buyers from all over the world, and H beam assembly, welding and straightening integral machine got many overseas customers' attention and intention orders.
After seeing the exhibited products, customers have confidence in the quality and technology of our products, which is the biggest trust and support of our customers to Zhou Xiang! This exhibition has also developed a number of potential customers and laid the foundation for developing new markets.
April The 11th Changzhou Machine Tool Fair
On April 18-20, 2023, the 11th Changzhou International Industrial Equipment Fair was held in Changzhou West Taihu International Expo Center.
In this exhibition, Zhou Xiang and customers, business friends to progress together, out of the "comfort zone", to promote exchanges, knowledge, the development of cutting-edge equipment, but also to verify a point of view - "do not listen, do not see" closed door, only Out.
Zhouxiang Enterprise

Specializing in the production of H-beam light and heavy steel production line, box beam production line, horizontal production line, double-splicing welding and straightening automatic line, all kinds of automated customized assembly line; including CNC flame plasma cutting machine, fiber laser flat cutting machine, laser pipe cutting machine, tube and plate integrated machine, hand-held laser welding machine, H-beam assembling machine, gantry submerged arc welding machine, H-beam straightening machine, shot blasting machine, H-Beam assembly welding and straightening integrated machine, welding special machine, auxiliary machine, rolling machine, profile bending machine, various welding machines, etc,
Made by Zhouxiang, professional quality, high precision, high speed.
Leading technology, stable quality, products sell well at home and abroad.