ZhouXiang Invites You To Participate In Wuxi Taihu International Machine Tool Show 2023
Views: 5 Author: Site Editor Publish Time: 2023-03-09 Origin: Site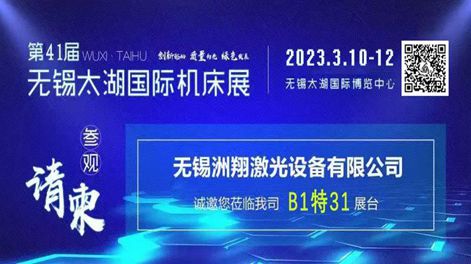 The 41st Taihu International Machine Tool Show
The 41st Wuxi Taihu International Machine Tool and Intelligent Industrial Equipment Industry Expo (hereinafter referred to as "Taihu Machine Tool Fair"), which has received much attention from the industry, will open on March 10, 2023 at Wuxi Taihu International Expo Center.
Booth Information Of ZhouXiang
Wuxi Zhouxiang Laser invites you to view the exhibition
Booth No.: B1 Special 31
Time:2023.3.10-12
Exhibition Venue: Wuxi Taihu International Expo Center
Wuxi Taihu Machine Tool Show, looking forward to your arrival!
Exhibited Products
Zhouxiang Enterprise
Specializing in the production of H-beam light and heavy steel production line, box beam production line, horizontal production line, double-splicing welding and straightening automatic line, all kinds of automated customized assembly line; including CNC flame plasma cutting machine, fiber laser flat cutting machine, laser pipe cutting machine, tube and plate integrated machine, hand-held laser welding machine, H-beam assembling machine, gantry submerged arc welding machine, H-beam straightening machine, shot blasting machine, H-Beam assembly welding and straightening integrated machine, welding special machine, auxiliary machine, rolling machine, profile bending machine, various welding machines, etc,
Made by Zhouxiang, professional quality, high precision, high speed.
Leading technology, stable quality, products sell well at home and abroad.