Zhouxiang Held The "June Safety Production Month" Theme Presentation And Special Equipment Safety Management Special Training Activities
Views: 1 Author: Site Editor Publish Time: 2023-06-12 Origin: Site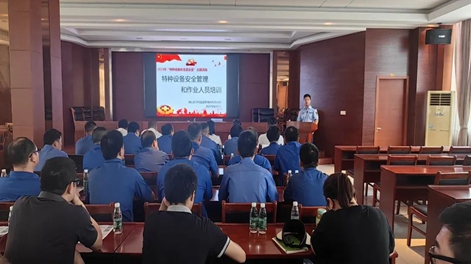 Special Equipment Safety Lecture
Safe Production Month In June
Special Equipment Safety Publicity Lecture
June 2023 is the 22nd national "safety production month", in order to vigorously create a strong atmosphere of "implementing safety responsibilities and promoting safe development". The relevant leaders of the donggang branch of the market supervision administration organized safety training activities for the safety directors and special equipment operators of the new and old factories of zhouxiang on june 8.
At the meeting, a theme presentation was given to all participants in four aspects: Understanding of special equipment, management requirements for the use of special equipment, illegal behavior of special equipment, accident analysis and warning education. Let the participants raise their awareness, change their concepts, consolidate the safety foundation, standardize safety behavior, and improve safety management level.
Finally, luo chang, a security officer of zhouxiang, pointed out that it is necessary to increase the safety supervision and inspection of special equipment and supervise the implementation, and urge the persons in charge of special equipment in new and old factories to implement the working mechanism of "daily control, weekly investigation, and monthly dispatch" so that there are no dead ends , full coverage, and resolutely put an end to safety accidents.
Zhouxiang Enterprise
Specializing in the production of H-beam light and heavy steel production line, box beam production line, horizontal production line, double-splicing welding and straightening automatic line, all kinds of automated customized assembly line; including CNC flame plasma cutting machine, fiber laser flat cutting machine, laser pipe cutting machine, tube and plate integrated machine, hand-held laser welding machine, H-beam assembling machine, gantry submerged arc welding machine, H-beam straightening machine, shot blasting machine, H-Beam assembly welding and straightening integrated machine, welding special machine, auxiliary machine, rolling machine, profile bending machine, various welding machines, etc,
Made by Zhouxiang, professional quality, high precision, high speed.
Leading technology, stable quality, products sell well at home and abroad.