Zhouxiang newest type H beam welidng line only need 2-3 opeators
Views: 19 Author: Site Editor Publish Time: 2018-10-08 Origin: Site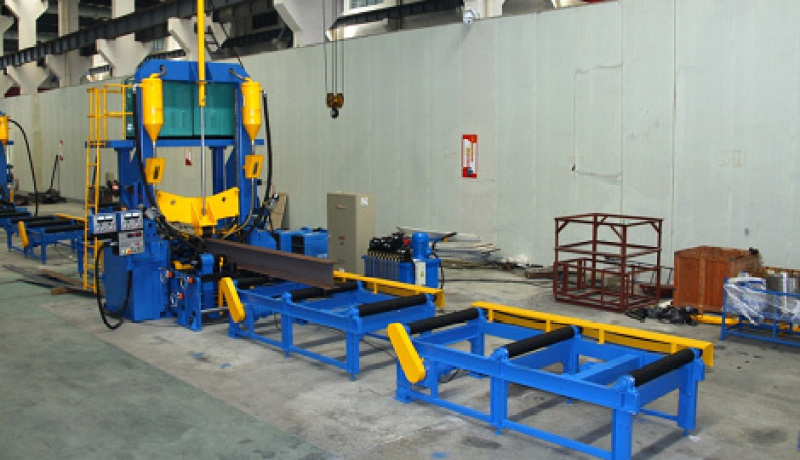 There are nice technical characteristics and innovative process of h beam welding line. Wuxi Zhouxiang Complete Set of Welding Equipment Co.,Ltd,professional in h beam production line for 15 years.We will tell you the nine technical characteristics.
1.h beam production line put H beam web vertical on the roller conveyor,there are two fillet welding seam welded on both sides in the meanwhile,it will greatly increase welding efficiency.Due to symmetrical welding,web is not deformed after welding.
2.H beam flange straightening machine directly straighten hot-state h beam flange deformation after welding through eccentric pressure roller,reduce straightening force, improve the straightening accuracy.
3.Welded H beam specification is the largest in china,same as h beam welding line of ESAB company,which is the most advanced h beam welding machine company.
4.In assembling process,we adopt assembling welding integral way,which can reduce production process, it can use auto-spot welding to replace manual spot welding,which increase production efficiency.
5.We adopt centering way of each two groups in front and back,increase positioning accuracy.
6.Wire feeding machine connects with welding torch and it can adjust welding angle of welding torch.
7.Big fillet welding seam,adopt single arc double wire.
8.Adopt imported PLC to control,very reliable and easy to be programmable.
9.Continuously finish assembly,welding,straightening process.one time shaping.
The total 9 technical characteristics are original in domestic,9 features,9 innovative process,9 product proposal to solve the industry problems.
Zhouxiang professional in research,production and sales in welding and cutting equipment,our main products are h beam production line,cnc cutting machine,shot blasting machine,welding column and boom,welding manipulator,welding rotator,welding positioner etc.Our company covers 160,000 square meters,fixed asserts 30 million dollars,total 500 employees,there are 150 engineers and technicians.We always insist "quality first,service first,reputation first",we provide high quality products and best service,and maximize the best profit for our customers.